I'm buying a house in Italy
What was the bright idea – films like "Under the Tuscan Sun" or "Love is all you need" or a culinary trip to Italy? Quickly pack a few bottles of Montalcino or Montepulciano and it's back to duty, everyday life and work.
So why not prolong the dream and buy a house in Tuscany – maybe a rustico with a large olive grove to start with, to have your own exquisite olive oil, or maybe a house by the sea, perhaps in Puglia, Calabria?
Of course, you can follow your feelings and first book an imaginary journey – from Munich to the Brenner Pass, then down near Modena in the direction of La Spezia, and after the Cisa Pass you have already arrived in Tuscany. The smell is different, the sky too and yes -the people are wonderfully loud and pleasant. Everywhere they are sipping an espresso and discussing politics or the beauty of women. How beautiful!! Of course you can look around right here -we booked a small stone house at italicarentals.com in Montignoso – it's a small village between Massa and Forte dei Marmi, above Cinquale. We stay 1 week, enjoy the sea and look around a bit.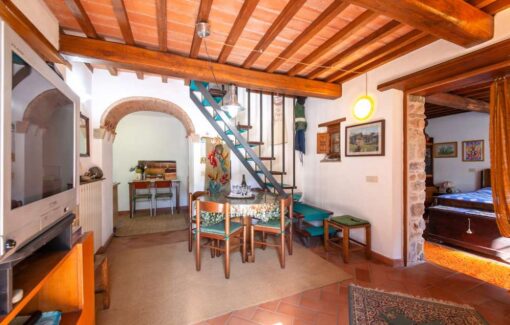 We quickly understand that our cash register will not allow a rustico with sea view, or will it? In any case, we first head for Garfagnana and Lunigiana, the northern part of Tuscany. Together with an agency, we browse through the properties that – as we think – meet our needs. Then we went to Lucca – but first we had a look at the centre of Lucca, the beautiful walls, churches and museums, and of course we had a typical Tuscan meal in a small trattoria – a risotto with mushrooms, a tagliata with rocket and fruit for dessert – to which we added a wine from the area around Lucca – a dry wine from Montecarlo near Lucca and a white Candia. I didn't want to miss visiting the famous Piazza di Anfiteatro – and my desire to visit here at least more often is growing.
Now we drive to Capannori near Lucca, the wonderful and very well-kept green area with countless olives and cypresses. Here we turn off – at Colle di Compito and the little church – it's uphill and I cringe at first – a gravel road, yes, but a road like this? In the midst of olive groves we hop our way up, once even over running water, whatever it was – was I the only one thinking, and then we've already arrived. Like a porcini mushroom – only the tree is missing – a rustico at its best, classic us pure, view over the valley, olives everywhere. I sit down on the bench in front of the rustico and know – I never want to leave here again.
I have found my Italian domicile near Lucca.