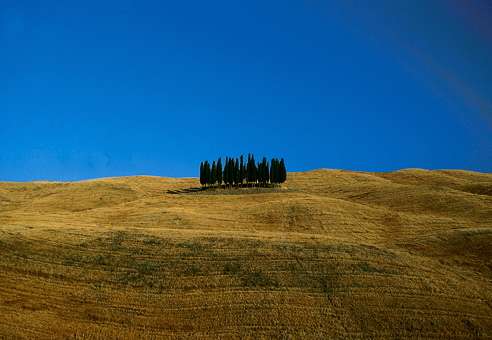 The province of Arezzo  is completely different to the other Tuscan provinces. One reason is certainly the geographical position: in the north-east, between the Casentino, the Chiana Valley and the Tiber valley on the border with the Marche and Umbria. Another reason is that until today his Arezzo Etruscan origin has survived. Arezzo has today approximately 96,000 inhabitants, of whom a big part is working in a job which centuries ago was among by the Etruscans and later by the Romans was continued.  Today is Arezzo famous for his jewelry production.  
The area of Lucca is well known for its numerous old villas, which with their complex architecture are spread throughout the wonderful landscape, rich in pine-woods and olive groves, as well as many chestnut woods. The sweet hills with their vineyards produce an excellent wine. The climate is mild all year round, as on one side the area is protected by the hills and on the other it is influenced by the nearby sea.
Versilia is not only famous for its beautiful sandy beaches at the foot of the Apuan Alps. Right from the beginning of the 19th C it was the home and meeting point of famous artists. It was the time of Art Nouveau, which can still be admired in ballrooms and palaces in Viareggio today.
At that time Pietrasanta became the meeting point of numerous sculptors, who not only found workshops well suited for the making of their sculptures in marble, but also specialised foundries. In the near-by village, Camaiore, rich in history and monuments, the festival of "The sawdust carpets" (Tappeti di segatura) is celebrated yearly. From there the road to Lucca, starts, which crosses numerous small villages, attracting tourists thanks to the many villas and private houses. In summer in Torre del Lago, home of Giacomo Puccini, some Operas of this famous musician are staged in the fascinating theatre of the Massaciuccoli lake. From Marina di Massa to Viareggio, passing by Forte dei Marmi, Marina di Pietrasanta and Lido di Camaiore, the coast offers its faithful tourists all the ingredients for a cultural, artistic and fashionable holiday. There are many villas in Italy for Sale, many foreigners decide to buy a property in Italy and a specially villa in Versilia.
From the Etruscans to the Romans to the Renaissance, Tuscany is possibly the greatest repository of art in the world, from extraordinary paintings and sculpture to frescoes and architectural masterpieces. Visitors to Tuscany come for many reasons. Many come in search of fine art, others to explore the extraordinary countryside. Gourmets and wine buffs descend on Tuscany to enjoy the simple yet wonderful cuisine and wine. Walkers enjoy the mountain paths, cyclists the rolling hills, summer vacationers the sea coast and islands. Students come to learn the beautiful Italian language and culture. There is a lot to see and do in Tuscany, the difficulty is really where to start. Certainly most should start with Florence, then continue on to Siena and Pisa. The roll call of città di arte, cities of art, is daunting: Arezzo, Cortona, San Gimignano and Lucca are all striking. The more you come to know the region, the more extraordinary Tuscany appears