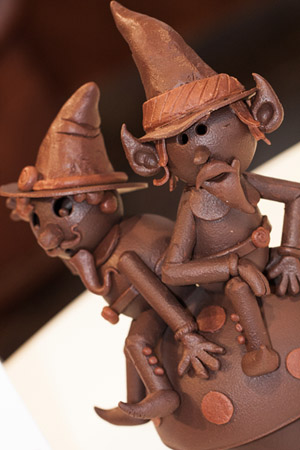 Turin and chocolate: 10 days of sweetness
From 10 October until 27 November, you must mark in your diary: Cioccola-Tò, the Turin Chocolate Festival 2023.
Well, the appointment of Italy's most delicious popular festival has been renewed once again. Not only Switzerland and Belgium have their 'chocolate' festivals, but Turin is also becoming more and more famous.
For years and years, this festival has never let up. Even during the period of the pandemic, following the closure, it was there, with all the necessary rules and distances, but it never missed a single appointment.
Turin, for the uninitiated, is one of Italy's chocolate capitals. Here we find cafés and chocolate shops that have centuries of activity on their shoulders. So much so that on a cultural and popular-traditional level, Turin is now representative of a product of excellence. Let us not forget that it is here that gianduiotto, the chocolate made from hazelnuts that are a PDO product in Piedmont, was born.
What to do at Italy's sweetest festival
We answer the question that all curious people ask themselves. Those with a sweet tooth certainly know what to do during the festival, or rather the popular chocolate festival in Turin, eat and taste everything. But for those who just want to browse, what to do at the Cioccolato-Tò festival?
The organisers do not intend to offer just a few stands with handcrafted products, but to create real emotional 'routes'. In fact, there are creative workshops for children based on chocolate games and educational information. Creative workshops for adults, where you can even learn new recipes and the history of chocolate.
Tasting sessions with teachings from the big names in Turin chocolate-making. You will learn old recipes, followed by shows and demonstrations.
At this very festival, in past years, there were even fights between hairdressers and beauticians who used chocolate in certain creations.
Last but not least, there will be shows of chocolate processing and new technologies or production projects. You certainly won't be bored.
A novelty that appeals to everyone, young and old, Italians and foreigners, is the possibility of actively participating in the creation of customised chocolate or cooking with professionals. The master chocolatiers turn into excellent teachers to give emotions and thus to succeed in enhancing the product.
However, there will also be guests of excellence such as starred Master Chocolatiers who will show and offer tastings of their latest creations. Cucina nel mondo is a highly appreciated event. Invited and present at the Torino 2023 chocolate festival are Venezuela and Brazil with their chocolate food and wine proposals.
The dates of the Turin 2023 chocolate festival
When will the Turin 2023 chocolate festival take place? This year's Cioccolato-Tò will be from 27 October to 5 November 2023. The opening of the stands and space dedicated to the event will start from 10 a.m. until 11 p.m. with free entrance price Piazza San Carlo Torino.
Ample parking and shuttle buses are available to welcome tourists, so you will have no problems whatsoever. Let us say again that you should not make any other appointments in your calendar because the Turin chocolate festival is becoming a fixed stop for many VIPs and sportsmen. It is an event that has now become very famous throughout Europe, and this year we are going to see some good things. There will be further updates shortly, which you can check out directly on the event page.
In any case, there are 10 days where every day there is a different event so that no one gets bored and where every day there will be a different proposal of new chocolate recipes.